| | | | |
| --- | --- | --- | --- |
| | Our family moved from Holbrook, Arizona to Washington State in the summer of 1947. I was about three or four years old. At one time we lived at the end of the ROK airport. It was in the woods and we were camped out. We had a little camping trailer that had the kitchen in it and one bed where my sister Scharlotte slept. We had a tent and it had bunks in it and my three brothers and I slept in it, and we had a camper shell from the back of a pickup (sort of) where mom and dad slept. | | |


Well, Mom and Dad sent for Grandmother and she rode a bus from wherever she was staying at the time up to our campsite in Washington. I don't know where she slept. But I do remember helping her make a terarium out of a fish bowl. She put moss and other things from the forest floor into the fish bowl and covered the top with saran wrap. Then in 1951 or so we made a trip to St Johns and there that fish bowl was on her living room table. I was amazed that it was still living.
Anyway here is a picture of her and me at the campsite. She was about 76 and I was about 4.






In 1961 we lived in my Mom's brother's (Uncle Joe James) house in Los Lunas, New Mexico. Grandmother was living in Tucson, Arizona with Uncle Ivan and Aunt Daisy I think. Mom and Dad drove to Tucson and brought Grandmother back to stay with us for a while. She had broken her hip and then they operated on her and fixed it but she was still a little cautious when she was walking and she would use her crutches.
Here is a picture of us in the kitchen of the old house. Grandmother would have been around 89.



Grandmother, my Dad Jay Richey
and my Mother Mabel James Richey

The old house we lived in was a 100-year-old adobe house and it did not have an indoor bathroom. There was an out-house across the yard and I remember Grandmother walking slow with her crutches. I was amazed she took it in stride and never complained about it.

We took this picture of Grandmother in May 1973. We had been stationed in Alaska and were being reassigned to New Jersey. We stopped in Show Low to see Grandmother. I asked her if she knew who I was and she said yes. She never said my name so I don't know if she knew me. The ladies at the home suggested


Grandmother and Dad
we take her outside. While outside I got this picture. The other person is my wife Diane. Also notice the throw on her lap, one of her beautiful quilts. It was not long after we got to New Jersey that we were notified that she had passed. We were grateful that we had been able to visit with her for a short time.
She gave us enough blocks so that our four daughters could get one. Diane had them framed and I typed up a letter explaining what it was and a little about Grandmother, and we put this picture in the front inside the glass.
Grandmother also made pillow cases for all her grand-children. We need to do the same with them. I am not sure I know which ones are the ones she made.
Here is the document we put on the back of the frame that had the quilt block.

Grandmother & Diane in May 1973
with one of her beautiful quilts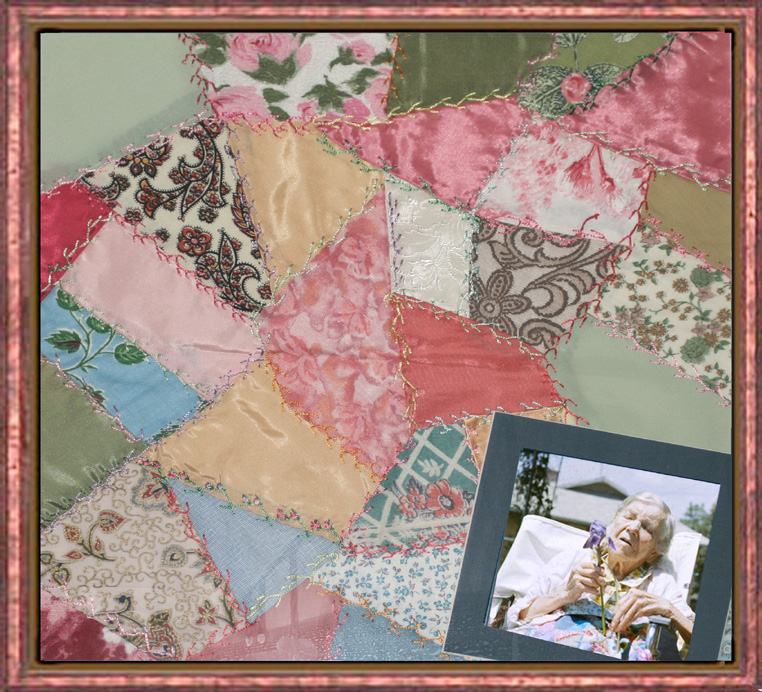 (click then right click to download quilt block w/out photo)





Mary Ann Chapman Richey
Born: 22 Apr 1872 at Parleys Park, Sunset, Utah
Died: 3 Jul 1973 at Show Low, Navajo, Arizona


Mary Ann Chapman Richey (Grandma Richey) was a product of the early pioneer era of Utah and northern Arizona. She was born at Parleys Park (near the present day city of Park City, Utah) and moved between Parleys Park and Sandy, Utah. They lived in Manti, Utah, and later her father was asked by Brigham Young to move to St Johns, Arizona to help build that community. Her mother, Mary Adeline Potter died when she was 2. When she was 4 her father married Harriet Zelnora Marsdon. Harriet died when Grandma Richey was about 12. Her father married Harriet Ann Davis. Grandma Richey was never comfortable with her second stepmother. Grandma Richey and her sister Elizabeth Amelia (Lizzie) worked in the homes of other families so they would not be around their stepmother. While she was working for the Farr family she met James Moroni Richey. James asked her to marry in the spring of 1888 (She received a ring on 1 May 1888).

James brother, Benjamin, was getting married to Alice Platt so the four of them traveled from St Johns, Arizona to St George, Utah to be married for time and all eternity in the St George Temple. It took them 5 weeks to make the round trip. The had two wagons and teams, on the way up the girls would sleep in one wagon and the men in the other, on the way back they slept as couples. Halfway up they buried grain for the horses, and built a fire over the spot to hide it. That way they did not have to carry the grain all the way up and back. They were married on Wednesday 12 Sep 1888, he was 39 and she was 16.

Mary Ann and James had 12 children, Mary Lucinda (Lou), James Welcome, Elinor Ruth, Moroni Forest, Hugh, John Montgomery, Emily Elizabeth, Leigh Montrose, Josephine, Vivian, Leslie Jay, and Daisy.

James died on 12 Feb 1930 leaving Mary Ann a widow for 43 years, until she died at 101 3 Jul 1973. Grandma Richey always kept busy caring for herself and visiting with her family. The attached quilt block was some of the things she made for her children and grand children. She also made matching pillowcases for her grandchildren. In reading her journal she states over and over her love of Heavenly Father, for the restoration of the Gospel of Jesus Christ and his church the Church of Jesus Christ of Latter-day Saints. She testifies that without the blessings of a loving Heavenly Father she would not have had the strength to endure the hardships she had to endure.

We hope you treasure this memento of your Great Grandmother Mary Ann Chapman Richey. By touching this you have touch the hands that have touched the hands that touched the hands of the Prophet Joseph Smith and the others of the Restoration.

Your Grandmother, Mable James Richey gave one of the quilt blocks to Diane in 1967 when we were on or way to Ft. Rucker, Alabama, and the other three in May 1973 when we were on our way from Alaska to New Jersey (when the photo on the front was taken).

Mom and Dad 28 November 2003
Diane Marie Sheffer Richey
Leslie Ray Richey